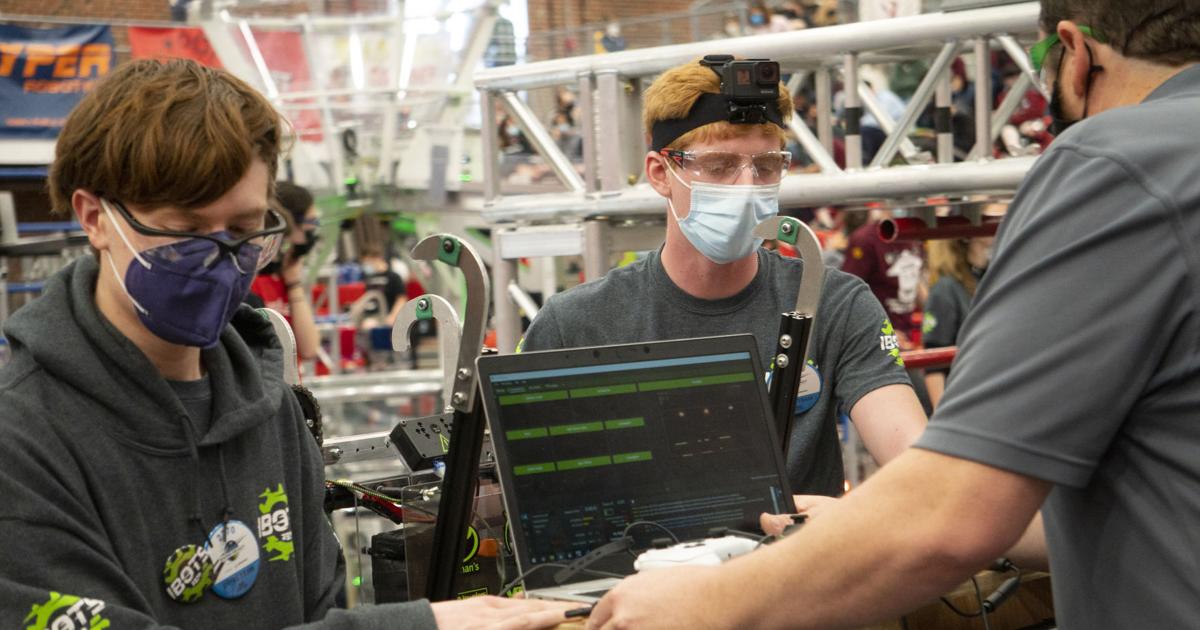 Local robotics team hopes to continue winning streak | Local News
The IBOTS are ready for battle.
Fresh off a victory last weekend, the local high school robotics team is back on the road to compete in the FIRST Robotics District Championships in Springfield, Massachusetts.
FIRST, or For Inspiration and Recognition of Science and Technology, is a nonprofit group founded by inventor Dean Kamen that focuses on STEM (science, technology, engineering and math) education and stages robotics and engineering competitions around the world.
Since 2008, Rutland Area Robotics has offered programs to local students in grades K-12 to inspire them to pursue careers in STEM.
The IBOTS are one of five youth robotics teams in Vermont, and currently ranked 19th out of around 200 teams in New England for the 2021-22 season, according to coach Dan Roswell.
The team — which is composed of middle and high school-aged youth from around the area — has designed, built, wired and programmed a 125-pound robot, named "Raptor."
This season's challenge is to get Raptor to shoot kickballs into a large cone and then successfully climb a set of monkey bars while other robots play defense.
Beginning Thursday, the IBOTS will compete against 80 other teams from around the region over three days in Springfield, Massachusetts. The top 24 teams will advance to the World Championships next week in Houston, Texas.
Win or lose this weekend, the IBOTS have already secured their place at world's. Their performance last weekend earned them the Engineering Inspiration Award for "outstanding success in advancing respect and appreciation for engineering within a team's school or organization and community."
The award comes with an automatic spot in the world championship competition.
Unfortunately, Roswell said the short turnaround time between districts and worlds and a lack of funding is going to make it logistically difficult for the team to make it to Houston.
With Springfield likely their final stop for the season, Roswell said the team is ready to give it their all.
"Everybody's worked real hard. I think we're gonna do very well. I'm excited to get out there and see what we're capable of," he said.
On Tuesday evening, the engineering room at Stafford Technical Center — which serves as the base of operations for the IBOTS — was buzzing with activity as team members made last-minute repairs to Raptor before heading to Springfield the following morning.
Emelia McCalla, a senior at Rutland High School, serves as the team's media coordinator and CAD (computer aided design) lead. In those roles, she manages the team's social media presence, as well as the visual design of Raptor.
She's also a member of the fabrication and mechanical design team.
McCalla has been involved with FIRST competitions since she was 9 years old and on the IBOTS since 2017.
Initially, she said, she was more interested in visual design but eventually got involved in more technical aspects.
"I've really, especially this year, discovered a real passion for CAD, for mechanical design and industrial design," she said.
McCalla will be attending Rochester Institute of Technology in the fall where she hopes to blend her passions of graphic and industrial design.
"I think I've had an interesting journey, as far as learning how to be on the IBOTS with a passion for art and also doing all that mechanical stuff, and I'm really happy with how it turned out," she said.
After their "dominant performance" in Worcester, McCalla said she had high expectations for this weekend.
"I think we have a good robot. We've dialed it in. We have a real shot," she said.
Max McCalla, Emelia's brother, also likes the team's chances.
"(The robot is) performing as well as it ever has and we're just gonna try to keep rolling," he said.
Max McCalla, who is the programming lead and pilot of Raptor, has been on the IBOTS since seventh grade.
"I manage the people who actually make this robot run and do what it does out in the field," he said.
A senior enrolled at RHS, Max McCalla spent two years in the engineering program at Stafford Technical Center. He is currently in Castleton University's early college program and plans on studying robotics next year.
On game day, Max McCalla said everyone has a role to play, from the pit crew and the drive team to the scouts and strategy team.
He said it can be a stressful environment but everyone knows what they have to do.
"We all just stick to our tasks and tend to split up our jobs really well in competition," he said.
While the multi-day events can be competitive and teams are definitely there to win, Max McCalla said there was also a spirit of cooperation among teams.
FIRST even has a name for it, he said: "coopetition."
"We're all about raising everyone up to a high level at events," he said. "We donate parts, we help other teams and we really like to cultivate a really strong, positive environment in our competition."
Matthew Riley, a volunteer mentor for the team, said that spirit of collaboration is unlike anything he's ever seen in other competitive activities.
"As soon as you're off the field, everybody there is collaborating and cooperating and helping each other out," he said.
More than a sport, Riley said he's also been impressed by the practical, hands-on education kids get through simply being on the team.
"If I had had this stuff when I was a kid, I'd probably be an engineer," he said.
jim.sabataso @rutlandherald.com