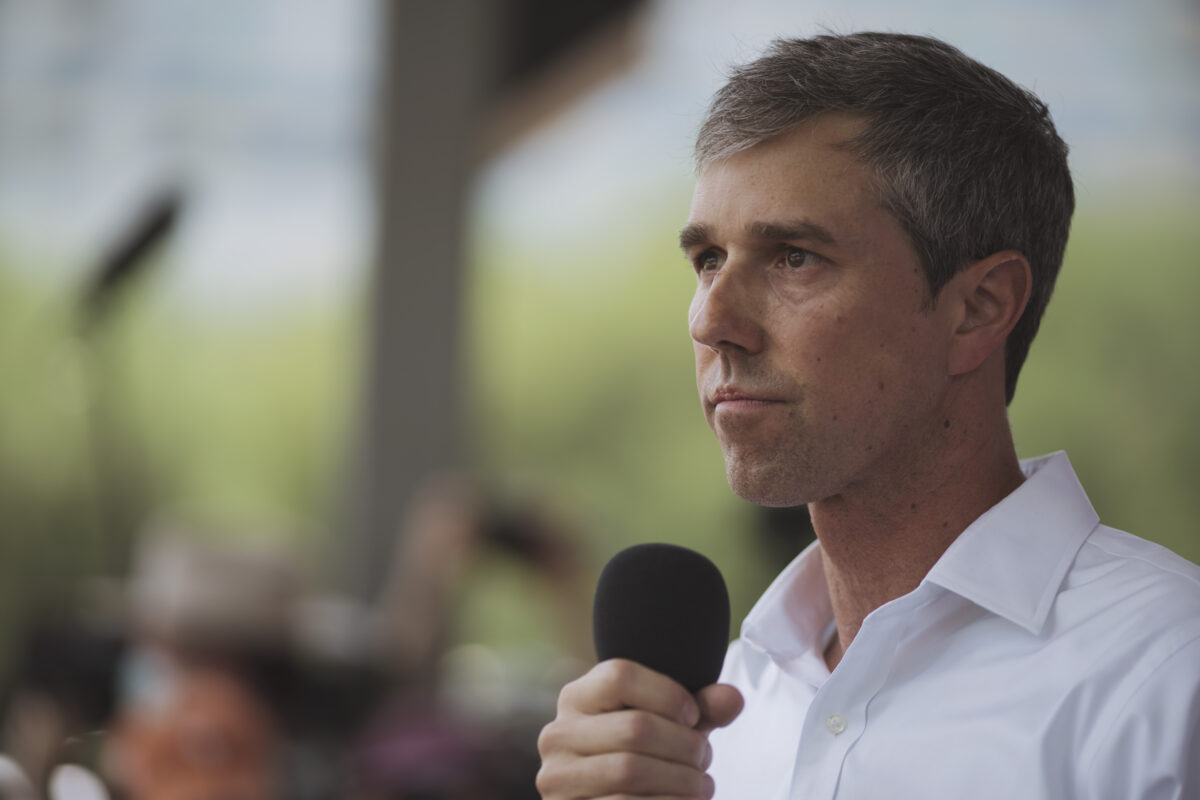 Beto O'Rourke Edits Campaign Website to Reflect Newer Position on AR-15s
Texas gubernatorial candidate Democrat Beto O'Rourke has changed his position on the use of AR-15 guns as evidenced by modifications made on his campaign website.
The section on gun safety on O'Rourke's campaign website contained a statement that he wanted to "reduce the number" of AR-15s and AK-47s on the streets, according to an April 1 archive. But the same section now contains a statement saying that "I don't believe any civilian should own an AR-15 or AK-47," as of May 28.
The AR-15 rifle is currently in the news as it was the gun used by the school shooter at Robb Elementary in Uvalde, Texas, on May 24 who killed 19 children and two teachers.
In the past, O'Rourke has flip-flopped on the gun issue several times. Back in 2018 when running against Republican Ted Cruz, O'Rourke claimed to support the Second Amendment, insisting that "if you own a gun, keep that gun."
In 2019 when he was running for president, the Democrat politician promised that he would ban the sale of AR-15s and seize guns from current owners. As recently as November 2021, he had stuck to this position.
But in February this year, O'Rourke softened his stance on the matter once more. "I'm not interested in taking anything from anyone," O'Rourke said to reporters, according to KLTV.
"What I want to make sure that we do is defend the Second Amendment. I want to make sure that we protect our fellow Texans far better than we're doing right now. And that we listen to law enforcement, which [Gov.] Greg Abbott refused to do."
Since the Robb Elementary shooting, O'Rourke has been heavily critical of the current state administration.
During Abbott's press conference on May 25 addressing the school shooting, O'Rourke interrupted the event, insisting that the shooting was "totally predictable" and that the administration had failed to do anything to prevent it.
Cruz, who was one of the Republican officials on stage, asked O'Rourke to "sit down and don't play this stunt."
Uvalde Mayor Don McLaughlin used even harsher words. "I can't believe that you're a sick son of a [expletive] that would come to a deal like this to make a political issue," McLaughlin said, according to The Texas Tribune.
Political strategists were divided on O'Rourke's outburst at the press conference. In an interview with Fox News Digital, Jennifer Holdsworth Karp, a Democratic strategist, called O'Rourke's actions "incredibly brave."
Texas-based GOP consultant Matt Mackowiak flatly dismissed O'Rourke, stating that his actions disqualify him as a person who could be a leader of the state.
"Beto O'Rourke showed yet again that he is unfit for high office by causing a scene while federal, state, and local officials were briefing the media and the local community," he said. "Beto's desire to 'go viral' was obscene and disqualifying."